«&laquo&nbspBACK
Use your Voice to Design Personalized Creative Artworks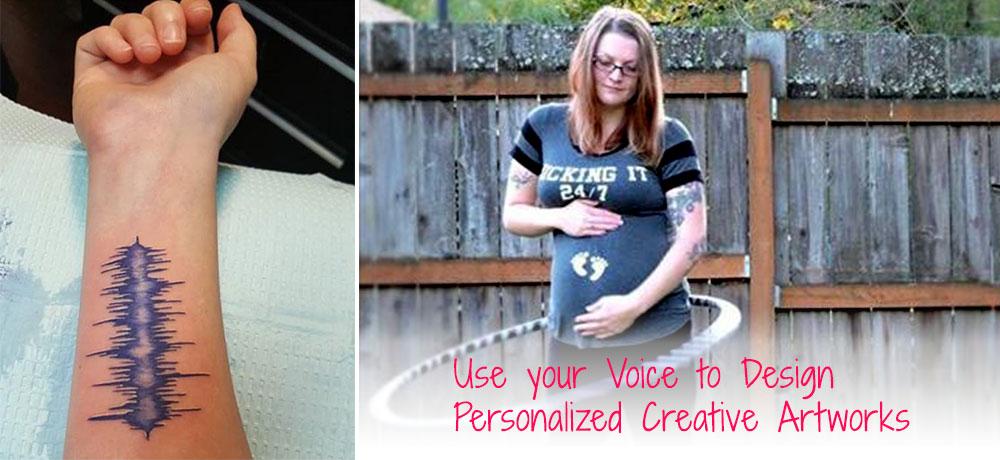 Many a times we find ourselves with limited choices to pick from, especially if we visualize putting together a creative piece that is appealing and innovative. Perhaps many people don't know that their voices are of enormous value. You can use your voice to turn artistic imaginations into reality, and that is what we are famous for at Voicepix. With our creative artworks and innovative skills we create personalized products using our client's voices. Creativity made real, valued and cherished for a life time by many.
We have had tremendous success in our line of creativity, as we can proudly turn to many of our clients who are more than satisfied with the end result. Our latest creation being a tattoo of a baby's sonogram voicepix onto the mothers arm so "two hearts beat as one." A huge thank you to our favorite client Danielle for sharing this moment with us and trusting our creativity. All was done within the shortest time span available, and we take pride over the outcome of turning Danielle's creative dream into a highly enviable magical reality. Voicepix would like to reach out the many people like Danielle who are ever in search for a place where their wishes can turn to creative reality.
Sharing client's ideas and converting them to reality is the prime focus at our firm. We are always open to people that share a similar dream of creating adorable artworks with voices. Sharing of wider perspectives and creative ideas pushes us to incorporate innovative designs that help us to keep broadening the spectrum of our creations. The blending of different ideas makes the final outcome have a unique creative touch that truly stands out, which would have otherwise been missed out if we worked on our own.
Delivering high quality personalized products requires that any voice capturing technique used needs to be of high quality. As a client, you have the opportunity to send us any of your favorite recorded sounds, and choose the design that well suits your creative needs. Having received this type of information, our creative professionals will ensure that the clients receive VoicePix cases/ art, that perfectly suits their style. With our creative personalized products and the detailed attention given to any artwork piece, we have been receiving an overwhelming response from our happy clients
If you are in doubt as to how to go about the process, well look no further. Voicepix has a dedicated crew of professional artists who work towards translating your creative needs and aspirations to something you can hold and cherish forever. Come own your creative piece of work and be inspired by the current VoicePix trends. Add to that an offer for free shipping of these exciting products, then what more could you ask for?
For assistance contact us at www.voicepix.com/pages/contact
More details on our creativity with your voice, visit http://www.voicepix.com/